Award categories for firms
For Accounting, Consulting Engineering, Law and IP Specialist firms in Australia and New Zealand there are several major categories of Award. Click here to see the categories in 2017 as examples of the Awards for firms in 2018.
Read any one of the many testimonials of past winners to see just how much an Award counts. And why.
Why firms should apply for the Client Choice Awards
Your clients, staff and marketplace really notice which firms win. Any firm or practitioner can claim to be client focused, only the elite few can prove it by reaching the finals or winning a Client Choice Award.
As you can read here, if your firm doesn't enter in the Client Choice Awards, then none of your practitioners will be eligible to win a Client Choice Award.
Congratulations to the 2017 Client Choice Awards winners!
Click here to view the 2017 Client Choice Awards winners list.
Legal profession sponsor

Neota Logic is re-imagining the way professionals provide their services. By 2020, Gartner predicts that 85% of customer interactions will be managed without a human. We believe in a future for professional services that is both automated and transformed. Where technology changes the nature of service delivery and extends the reach of experts to new audiences. Our unique Artificial Intelligence platform allows professionals to rapidly automate their expertise, increasing productivity, improving client satisfaction and creating new business opportunities.
Engineers Australia is the representative body for the engineering profession in Australia. With over 100,000 members across Australia, Engineers Australia represents all disciplines and branches of engineering.  Engineers Australia maintains representation in every state and territory of Australia.  Engineers Australia is constituted by Royal Charter to advance the science and practice of engineering for the benefit of the community.
Application process for firms
There is no fee to apply. Applicants must, however, provide their entire client database to beaton. To be included in the research that informs the Awards this database must include email addresses in an Excel format specified by beaton. ExcelWhen preparing your client database please note:
You must include all clients with which your firm has worked over the last 12 months
Inclusion of the names of all individuals with whom your firm has contact in your major clients is expected and encouraged – and to your advantage for the Practitioner Awards
Only those firms and individual practitioners that receive sufficient ratings in the research will be eligible to win an Award – this is the reason we require you to submit your entire client database (complete with name and email address of each individual client contact)
If you have any queries regarding the size of your database please contact Ewa Foroncewicz at beaton directly on +613 8373 2600
Firms that do not supply an entire client database may be deemed ineligible for the Awards as a result of having insufficient client responses
beaton reserves the right to require evidence to validate the size of your client database.
Client names and email addresses are provided directly to the researcher, beaton, and will be used for the sole purpose of conducting the research that informs the results of the Client Choice Awards and the beatonbenchmarks. At no time will our media partner or any other party have access to your client database.
For further details of the research process see How the research is done and our strict privacy standards under Privacy and Confidentiality.
Timetable and dates
| | | | |
| --- | --- | --- | --- |
| Applications | Research and analysis conducted | Finalists announced | Winners announced |
| Applications are closed now | September 2017 to January 2018 | February 2018 | March 2018 |
Earlier entry date
You may have noticed that the entry for the 2018 Client Choice Awards is several weeks earlier than in previous years. This has been done in your interest to maximize the amount of time that clients have to respond to the survey. More of your clients will get the opportunity to participate. Though the client judging process begins earlier this year, it remains open until the end of January as in previous years.
Judging process for firms
The diagram shows the four steps involved in the judging process that identifies those firms that reach the Finalist stage and are ultimately Winners of Client Choice Awards.

If you have any questions about the judging process for Firms please write to George Beaton at george.beaton@beatonglobal.com.
To read the judging process that identifies those practitioners who reach the Finalist stage and are ultimately Winners of Client Choice Awards click here.
Why apply for the Awards
As they say, you have to be in it, to win it. Your clients, staff and marketplace really notice which firms win. And being a Finalist gets a special mention too – many firms proudly display their Finalist certificates for the entire world to see. Click here to find out how Winners and Finalists will be featured in The Financial Review, our exclusive media partner.
The CEOs, managing partners and CMOs of past winning firms have provided testimonials showing just how much winning an Award counts. Throughout this site you can read what the leaders of accounting, consulting engineering and law firms say about the significance of winning an Award in the eyes of their clients and people.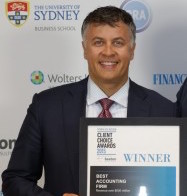 PwC is humbled and honoured to have been voted as the Best Accounting Firm (revenue over $500m) and Best South Australian Firm at the Financial Review Client Choice Awards this year.
These Awards are specifically important to us as they are based on input from our most important judges, our clients. We work to put the client at the centre of everything we do and to bring relevant solutions and capabilities to them. I believe that spending time to truly understand clients' needs and adopting a collaborative approach to solve their issues has contributed significantly to these wins.
The Client Choice Awards recognise PwC as a leading professional services provider and we are committed to continuing this high standard of delivery. It is through listening to the market and adapting our approach based on feedback from our clients that we seek to grow in relevance and make a difference to our communities
Mike McGrath
Managing Partner, Markets, PwC
Testimonial
We deeply value the relationships we have with our clients and work hard to ensure they are at the forefront of all that we do.  It is fantastic for the Firm to be recognised at the Client Choice Awards by our clients across the finance and insurance sector as providing the highest levels of service.
Chris Gordon
Testimonial
We are honored to be consecutive winners of the Client Choice Awards. These prestigious awards mean a lot to us as it is based on the direct feedback of our clients. Outstanding client service is important – we are very proud of our people for being recognised for their efforts.
Tony Fittler
Testimonial
Through the Client Choice Awards, beatonbenchmarks provides an important perspective that is independent and complements our own discussions with clients…the data provides valuable insights on how client perceptions of Tonkin & Taylor have trended in light of organisational changes, strategic activity, and changing market conditions.
Doug Johnson
Awards night
Every year since 2005 the Client Choice Awards ceremony has been held at an exclusive gala function. 2018 promises to be bigger and better than ever. We are making every effort to encourage firms and practitioners throughout Australia and New Zealand to apply.
The Client Choice Awards 2018 gala dinner will be held at the Sofitel Melbourne on Collins on Wednesday 14 March 2018.