SGS Economics and Planning is an employee-owned urban public policy consultancy and certified B Corp. This year, SGS Economics and Planning's clients recognised their excellent client service and rewarded them at the 2021 Client Choice Awards with the Best Planning Firm (<$30m revenue) Award.
NAB is the Principal Partner of the Awards. This Award is presented in partnership with Deltek.
We caught up with SGS Economics and Planning to gain some insights into the firm's approach to client service and how this has contributed to their success.
What attracted you to enter the Client Choice Awards?
We've been aware of the Client Choice Awards for many years, but there wasn't a category suitable for our business until recently. As a Certified B Corp, nurturing client relationships is a top priority for us. The more we can help our clients, the more impact we will have. The opportunity to source independent feedback to improve our services further was appealing to us.
How did you find the process?
Registration was simple and affordable, and the process was easy. We have a comprehensive client listening and feedback program, so the Client Choice Awards was essentially an extension of that.
How useful and actionable was the feedback you received from clients?
All the feedback was useful. Seeing the industry, location, and service line results was interesting.
What was the key factor in your firm's success?
We work with government, industry and community leaders to shape more sustainable and equitable cities and regions. Our success is clearly linked to how we help tackle pressing social, economic and environmental problems – from unaffordable housing to the climate crisis. Knowing how we have helped and can continue to help our clients is vital to our success.
What benefits has taking part in Client Choice Awards brought your firm?
Winning the 2021 Best Planning Firm <$30m showed our clients and potential clients that we are committed to their success. It was also a big boost for our team; they enjoyed seeing their commitment and good work recognised.
What would you say to other firms in the Built & Natural Environment Consulting space who may be on the fence about taking part?
If you are interested in receiving client feedback and improving client relationships, then get involved. You have nothing to lose.
If this sounds like your firm, we encourage you to enter the Awards and start collecting client feedback. They are open to all types and sizes of built & natural environment consulting firm or any firms in the accounting, legal and intellectual property professions.
ABOUT THE CLIENT CHOICE AWARDS

The Awards are unique because they are based on client feedback. They reward firms and professionals for excellent client service, expertise in clients' area of need, innovation and superior client experience.

It is the only multi-profession and fully client-judged Awards anywhere in the world.

This year more than 300 firms entered and over 17,700 pieces of client feedback were collected and used to adjudicate the Awards.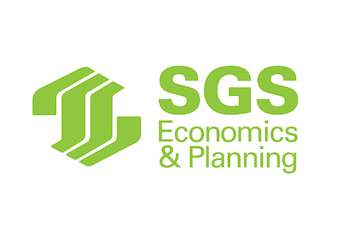 About SGS Economics and Planning
SGS Economics and Planning is an employee-owned urban public policy consultancy and certified B Corp.
They play a critical role as independent and trusted advisors, with high standards of accountability and transparency, to the governments and organisations that shape Australia's cities and regions.