Recently Hinge, a US-based professional services researcher, published compelling empirical evidence of the relationship between client feedback, growth of the firm and its bottom line.
Hinge investigated relationship amongst client feedback, growth and profitability in professional services firms. Feedback was defined as systematic, structured research on the firms' target groups, i.e. clients, prospects, potential prospects. Hinge founder, Dr Lee Frederiksen, said "Frankly, I wasn't expecting to see much of a relationship between research and bottom line results. Boy was I wrong!"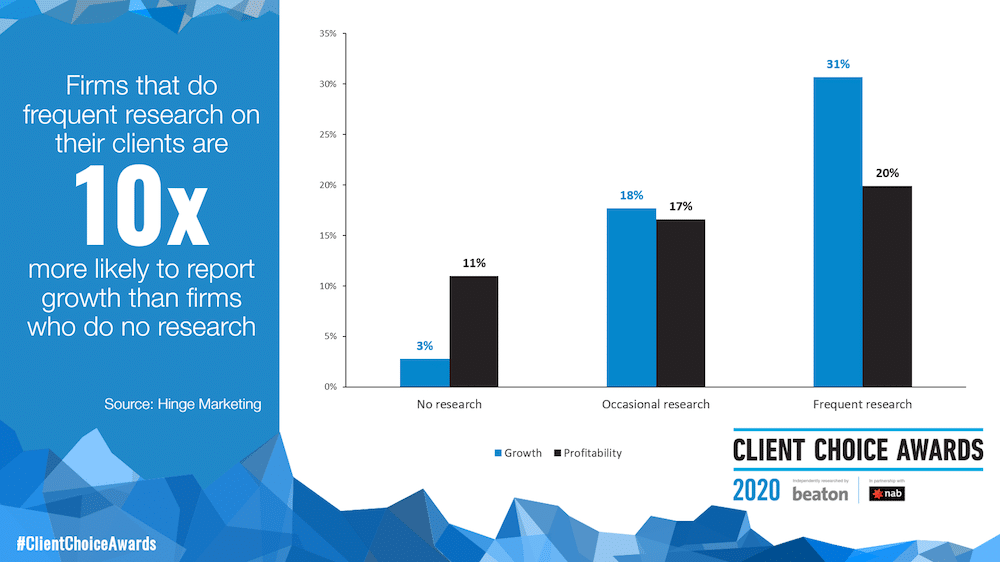 Hinge broke firms into three groups: 1) those that did no such research, 2) those that did so occasionally, and 3) those that did so at least quarterly. The chart above tells the story of what Hinge found. Firms that conducted structured research, even occasionally, were more profitable and grew faster than those that did not. And, those firms that did frequent research were even more profitable and grew even faster. Details of the Hinge study may be found here.
Like beaton in Australia and New Zealand, Hinge finds client and prospect data is a powerful driver of change, often more so that C-suite exhortations and training.
The collection and use of objective evidence is the most effective way to drive positive changes in behaviour of all those who serve clients and those who support those serving clients.
Entering the Client Choice Awards is the most cost-effective way large, mid-size and small professional services firms in Accountancy, IP, Consulting Engineering & Built Environment and Law can access high quality authoritative client feedback.