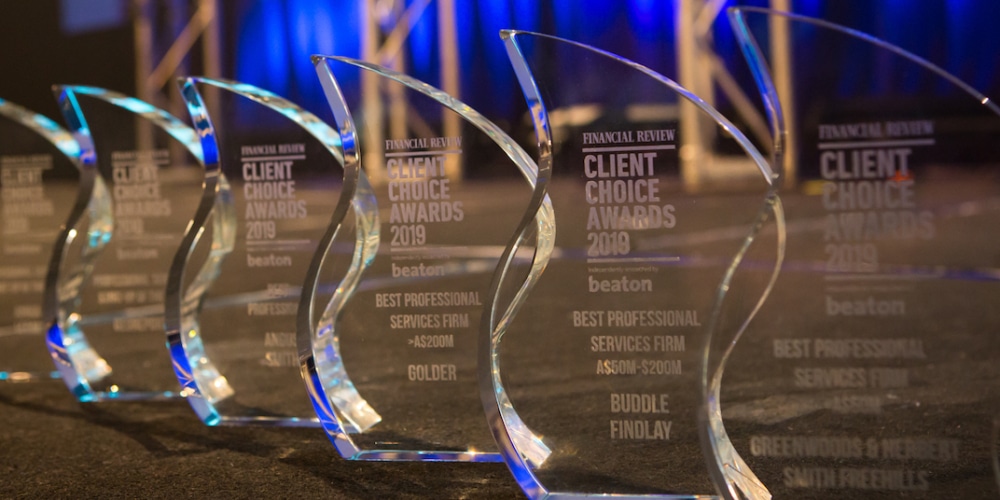 Client Choice Awards Tips & Tricks
Please note that the tips & tricks outlined below are strictly for entrants into the less than $30m revenue categories of Client Choice Awards only. If you are a larger organisation taking part in either the $30-$100m, $100-$200m or $200m+ categories of Client Choice Awards and have questions about the process, please message us through our 'Contact Us' page or reply to your entry confirmation email and one of our team will be in touch to help.
Selecting clients to survey
Invite all clients whom your firm have provided services to in the last 3 years i.e. any client from financial years 2021, 2022, 2023 and 2024 YTD are eligible to be surveyed.
Take care not to send your invitations out to just a general mailing list. Not only can this lead to funny results coming in but it could also alienate potential future clients from using your organisation in the future. Dedicating an hour or two to to "clean" your client list is a worthwhile investment not only for these surveys but for other marketing efforts your organisation undertakes itself in the future.
Invite multiple respondents from each client organisation. If your organisation worked with numerous people within a client organisation for a particular project then invite them all to provide feedback on your client service.
Don't cherry pick your best clients! The main purpose of the Client Choice Awards is for firms to have access to insightful and actionable client feedback. Choosing to survey just your happiest clients leads to inaccurate results and benchmarking data for your own firm and your peers. Segmenting or narrowing down your client list will also reduce your chances of reaching the minimum threshold number of responses required (30) to become eligible to win an award.
Continue to add new clients throughout the survey period. Take stock at the end of every month and issue a survey invitation to any new clients who have come onboard – client feedback is usually at it's most insightful when the experience is still fresh in the client's mind.
If you are an organisation who has entered the awards under multiple categories then make sure you encourage clients to provide feedback on all the services you have provided to them. While getting a good score for one service line is great, it's as valuable (if not more so) to know that the same client may not be having such a positive experience in another area.
You are free to share your surveying link with clients any way you see fit however please make sure to share it with clients only. Sharing your link with non-clients could see your scores affected by misleading and inaccurate survey results being completed.
To help automate and speed up the process of emailing your survey link to a batch of clients we would recommend using an email marketing tool such as Mailchimp. Mailchimp has a basic free plan to allow you to test the waters as well as a large library of guides, tutorials tips and tricks in their resources section. A number of alternatives to Mailchimp are also reviewed in this article.
How you word the email invitations to your clients is completely up to you but we've prepared a couple of templates which you are free to adapt to your own organisation's language/style. Template 1 can be found here, template 2 can be found here and template 3 can be found here.
To improve response rates make sure to send your emails using an email address that clients will recognise.
Other methods of sharing your survey link with clients could include: partners or principals issuing invitations via personal emails to clients; incorporating your survey link into client invoices etc. Just be sure to heed the warning in point 1 above i.e. don't share your link on public facing platforms such as social media where more people than just your client base can see it.
To improve the legitimacy of the email and to prevent questions from clients you are welcome to link to the Beaton credentials page of our website in your invitations.
We would advise that you send out reminders to clients at least once (but ideally multiple times) across the survey period. The email marketing tools listed above make it easy to allow clients to unsubscribe from emails if they don't want to continue receiving invites. You should also make sure to remove clients who have already completed their survey so they are not invited more than once (you can do this by referring to the notification emails you'll receive each time a client completes a survey).
As a reminder, the Client Choice Awards surveying period runs until 14 February 2024. Your survey link will remain open for a short while beyond this date to capture the responses of any clients who are a little slow to complete. Only data received prior to the 14 February deadline will be included in your awards judging sample however any responses received after the cut-off will be included in your final client feedback report.
We would advise that you schedule at least 1 reminder to go out to clients during January as historically this is the best month for response rates. While a lot of clients take time off during December and January we find that it is during this period that they actually have the time to sit down and take 5 minutes to think about their answers and complete their survey.
After surveying finishes on 14 February the next time we'll be in touch is on 20 March to announce and celebrate the winners for each awards category.